WHY CHOOSE
ZIP TRACKS
Ziptrack is a unique and innovative outdoor awning made of water resistant fabrics and aluminium frame. It offers all weather protections against all elements and UV protection and privacy for home owners.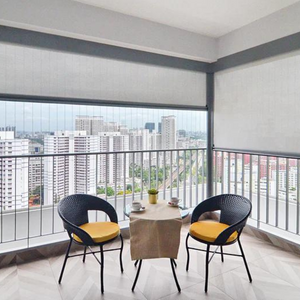 ZIPTRACKS
Introducing the VOILA Motorized Zip Blind, the ideal solution for modern, stylish, and energy-efficient window coverings. Choose between two motor options: the popular A-OK motor, favored for its cost-effectiveness, or the renowned SOMFY motor for advanced performance. The product features a user-friendly remote control that empowers you to manage single or multiple blinds with ease.
Smart Technology
Discover added convenience with our optional smart function upgrade. Gain assurance from our extensive warranty, providing a 5-year motor parts coverage, with transport expenses coming into effect after the initial 2 years. Elevate your living space with VOILA Motorized Zip Blinds, a seamless fusion of style and functionality. It's designed to offer an optimized online shopping experience, ensuring that you have both form and function at your fingertips.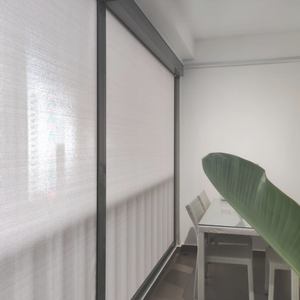 ADVANTAGES
VOILA ZipTrack, preferred by Singaporean homeowners, is designed for outdoor spaces. Its track-guided system allows easy operation, customization of light and airflow, and is known for durability and low maintenance, making it a long-lasting shading solution for Singapore's tropical climate.
Motorised
BEST-SELLING AUTOMATIONS
Control your blinds with a touch of a button